Corps de la Paix des États-Unis
 هيئة السلام الأمريكية بالمغرب
Avis de recrutement
 آخر أجل هو 15 مارس 2020
Le Corps de la Paix des USA (Peace Corps) au Maroc recrute deux (02) coordinateurs (trices) en CDD
Le Corps de la Paix des USA (Peace Corps) au Maroc recrute deux (02) coordinateurs (trices) en CDD (300 Dh par jour logé, nourris et frais de transport inclue) entre le 15 avril et 26 novembre 2020 au programme de familles d'accueils qui seront chargés d'identifier les familles pour accueillir les stagiaires du Peace Corps pendant la durée de la formation communautaire (CBT), et d'identifier les sites de formations communautaires appropriés pour les stagiaires entrants basés sur les critères de sélections et les familles d'accueils.
Le coordonnateur (trice) de la famille d'accueil est un poste clé dans l'identification des familles et des sites de formations appropriés pour la formation initiale (PST). Le personnel à ce poste assure le bien-être des stagiaires dans leurs familles d'accueil tout au long de la formation (PST). Il / elle travaille en étroite collaboration avec l'équipe de formation et assiste aux différentes tâches pour assurer le bon déroulement de la formation.
Le dernier délais de postuler (avec CV et lettre de motivation en Anglais) à cette adresse email: Moroccojobs@peacecorps.gov est le: 15 mars 2020
Pour plus de détails prière, voir le document ci-joint.
---
نص الإعلان بالكامل
---
PEACE CORPS – MOROCCO
VACANCY ANNOUNCEMENT
POSITION: Homestay Coordinator
DUTY STATION: Rabat, Beni Mellal region
DATE OF ENTRY ON DUTY: April 15, 2020
DATE OF COMPLETION: Nov. 26, 2020
SALARY LEVEL: 300 Dhs per day. Food, lodging and transportation are provided by Peace Corps.
DEADLINE FOR APPLICATIONS: March 15 – 2020
Position summary:
Peace Corps Morocco is seeking two (02) Homestay Coordinators who will be responsible for identifying families to host Peace Corps trainees for the duration of the community based training (CBT), and identify appropriate Community Based Training sites for incoming Trainees based on homestay and CBT selection criteria.
The Homestay Coordinator is a key position in identifying families and appropriate training sites for the Pre-Service Training (PST). Staff in this position ensures the wellbeing of the Trainees in their homestays throughout the PST. He/she works closely with the Training Teams and assists with different tasks to ensure the smooth operations of the training.
One or more candidates may be selected from this advertisement, based on need and availability of funding
Duties and Tasks:
I–Homestay Program


Preparation Phase of Homestay:
Identifies, selects, and interviews host families in their homes
Visits all families' homes and checks for selection criteria and runs orientation meetings for the families
Collaborates proactively with local authorities and officials as well as partners and community leaders to identify appropriate Community Based Training site for incoming Trainees.
Participates in orientation meetings at CBTs to orient all homestay families in the PST homestay family program.
Implementation Phase of Homestay
Participates in CBT placement meetings in order to link homestay families with PCTs.
Ensures a smooth transition of PCTs to new homestay families and that families are ready to receive their new PCTs
Regularly visits host families to talk about the wellbeing and progress of the Trainees
Conducts regular formal and informal meetings with PCTs about their homestay to give and receive feedback on their homestay.
Conducts regular formal and informal meetings with homestay family members about their PCT to give and receive feedback on the wellbeing and progress of the PCT.
Communicates regularly with PST staff and supervisor on progress of PCTs and their homestays, ensuring the success of the homestay program and the wellbeing of the PCT.
Organizes welcoming and farewell parties in each CBT for all the homestay families.
Ensures smooth transition for PCTs who need to move homestay families.
Draft reports, document each homestay family's success in hosting PCTs, and make recommendations for future CBTs and homestay families.


II–Training Support
Preparation Phase of training Events
Prepares, submits and maintains an inventory of supplies and equipment needed for training events to the PC General Services Officer
Handles event logistics, accommodations, food, transportation, supplies and equipment, schedules, participant lists, support to admin group (i.e. reimbursement info, etc.)
Supervises the setup of training venues before any training event
Implementation phase of training
Provides appropriate signage to inform PCTs and staff of scheduling, logistics, policies
Handle logistics and support presenters during clusters and HUBs
Acts as on-site coordinator and serves as duty officer for the duration of the PST
Assures that Peace Corps policies are being followed by both staff and Trainees.
Oversees the shipping of PC materials to Clusters and HUBS and back to PST office
At the end of the PST, prepares an inventory of all training supplies and oversees packing and shipping to PCO.
Performs other related duties as needed
Minimum qualifications required and proven experience in the following:
Required Qualifications:
University degree
At least 1 year experience working in an international setting where every day language of communication is English
Basic computer skills including word processing, Excel, internet and email.
Moroccan citizenship.
Experience living or working in rural Morocco
Desired Qualifications:
Tamazight or Tashelhit language skills
Ability to conduct presentations in English and Arabic
Good listening and skills in providing feedback.
Strong organizational and coordination skills.
Ability to act with diplomacy and tact with staff, Volunteers, Trainees, community members and local authorities
Ability to work independently and as part of a team.
Driver's license and at least 6 months driving experience
ATTENTION ALL APPLICANTS – IMPORTANT REQUIREMENTS – READ CAREFULLY
For consideration, all applicants must complete all instructions below:
Candidates should Include and confirm in their Resume/CV that they:
1-Have a University degree
2-Have at least 2 years exprerience working in an international setting where every day language of communication is English
3- Indicate in their Resume/CV their level of verbal/written English proficiency (for example: beginner, intermediate, advanced)
4- Have basic computer skills including word processing, Excel, internet and email. Describe in the CV the types of computer skills they possess
5- Have Moroccan citizenship.
6- Have experience living or working in rural Morocco
7-Submit a brief Cover Letter and Resume/CV in English. These must be type written.
8- Submit all materials by the closing deadline
For consideration, all applicants must submit a Resume (CV) together with a Cover Letter stating in detail how their education and experience fulfills the requirements of the position. Submitted material must address each listed requirement. Both Cover Letter and Resume (CV) must be type written in English and either emailed or mailed delivered to:
Moroccojobs@peacecorps.gov
2, Rue Abou Marouane Essaadi, Agdal
Rabat, 10080
Only applicants selected for interviews will be notified by telephone and/or email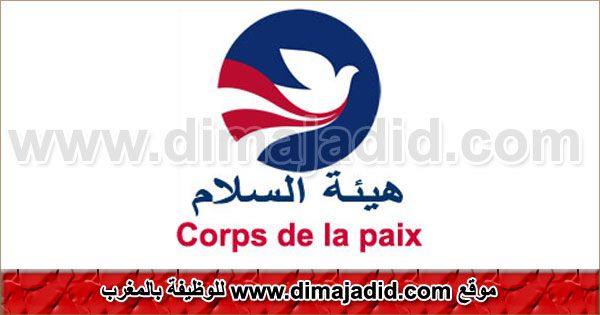 ---